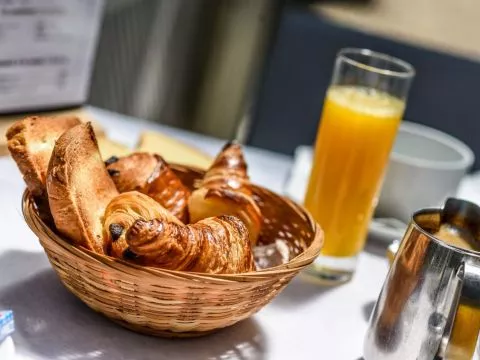 Hotel on the Basque coast
Welcome to Hendaye beach
The Bergeret Sport hotel is located in Hendaye on the Basque Coast, 150 meters from the beach, in a quiet street and close to shops. You will find us between the old casino, also called "La Croisière" and the Hendaye rugby stadium. Thus, you will cross the famous Palm tree roundabout, a real meeting point in the city. 
Our Basque-style hotel-bar-restaurant built in 1921 is one of the rare establishments in the region to have weathered all the storms of the 20th century. This long history gives it a unique soul that many appreciate. Also this very special atmosphere is reinforced by the presence of regular customers who can share anecdotes with you or by the owners present at the hotel.
Today, Georges and Marie Carmen are at the helm and perpetuate the Bergeret family history.
The hotel has 14 pleasant rooms, an authentic period lounge and bar, free outdoor parking, free Wifi connection, a business corner with printer, a lift and a luggage room for your confort.

A stay in our hotel will allow you to access all the shops you may need during your holidays: shops selling regional products, clothing and lingerie, leisure and sports, the bookstore, the pharmacy and the doctors of city, to hairdressing salons and beauty institutes, to supermarkets, to banks, to the dry cleaning service and finally to bars, restaurants, ice cream parlors or even beach huts specializing in churros.

SPACES AND SERVICES
A quality stay
A warm welcome within our establishment
Our Basque-style hotel is regularly renovated and is ideal for a stay for two or with the family.

Our rooms are carefully decorated to offer you serenity and comfort in a warm setting.

They are located on the 1st and 2nd floor of the hotel and are identically equipped.
Some have a balcony and even a terrace.

We offer different accommodations :
Rooms in the Hotel
Rooms in the Villa
Apartments
A family story
Hotel & Restaurant since 1921
Our traditional Basque house from the beginning of the 20th century authentically houses its restaurant, lounge and bedrooms in an atmosphere full of history.
A century has passed since the construction of the Sports Hotel.
 
Georges and Marie-Carmen Bergeret and their children, Jessica and Cyril took over the family hotel in 1984. They are the fourth generation. Proof of the attachment of the Bergeret family to its establishment, the family name is attached to the commercial name. Thus, we continue the family tradition and always welcome you with the same attention.
Hotel hours
Hotel : 8h00 à 22h00
Check-in : from 15h30
Check-out : before 12h00